ESPO Microscope Slide Printer
ESPO Microscope Slide Printer
Matsunami Glass' ESPO Slide Printer revolutionizes the laboratory by providing on-demand printing, creating a more efficient workflow and minimizing errors.
Key Features
Discover ESPO's finest features.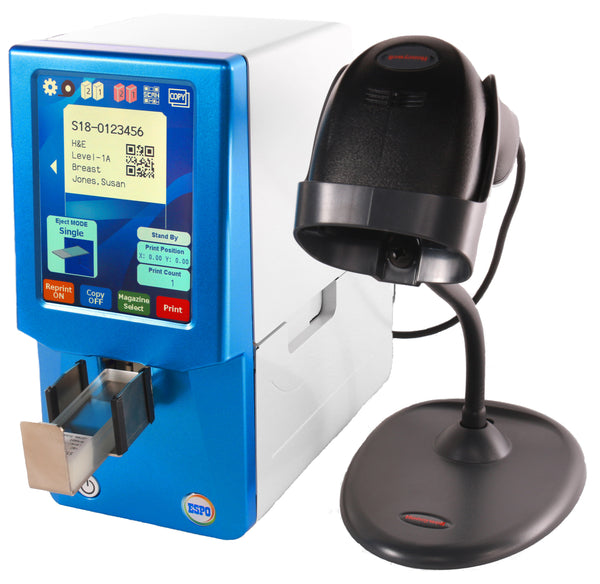 Display

Fully integrated color touch-screen display and simple software is easy to use.

Connectivity

Easily connect to computers or laboratory information systems via Wifi, LAN or USB.

Capacity

Two 100 slide cassettes allow for continuous printing.

Front Loading

Single slide front loading enables refill-free printing, even when tissue is on the slide.
Technical Specifications
A look at the finer details.
Features

Front Loading
Barcode Capable
Solvent Resistant: water, alcohol, xylene

Slide Compadability

Print Speed: 3 seconds per slide, 20 slides per minute
Print Direction: 0°, 90°, 180°, 270°
Slide Size: 25 mm x 75 mm x 1 mm, 26 mm x 76 mm x 1 mm
Frost Size: 15 mm, 20 mm, 25 mm

Connectivity

Specification

Media Type: Thermal transfer ribbon
Dot Density: 12 dot / mm
Depth: 9.4 in, 240 mm
Width: 4.7 in, 120 mm
Height: 9.8 in, 250 mm
Weight: 15.4 lbs, 7.0 kg